Community Health Assessment Toolkit

Step 8: Implement Strategies
Purpose
This step puts into action the plan selected and developed in Step 7 to address prioritized community health needs. This is an ongoing process where you are working to improve health by turning strategies into concrete, actionable steps. If you have developed Population Health Driver Diagrams to address priority health areas identified in your community health assessment (CHA) (Step 7), these driver diagrams can continue to be used and updated as you implement strategies with multiple stakeholders. Teams can be formed around each of the primary drivers, and these teams can determine specific secondary drivers to address.
Key Components
Continue engaging stakeholders
Engage internal and external stakeholders throughout implementation to support ongoing community buy-in. Refer to the Community Engagement section for additional information about how to engage stakeholders in this process.
Assemble an implementation committee and team for each strategy
Over the course of your CHA, it is likely that many committees and work groups will have convened to address components of the process. These groups may develop into more official bodies or formal partnerships to implement strategies for addressing the priority needs or conduct the next CHA.
The implementation team can meet periodically to assess progress and challenges and make any modifications to the action plan. The team should include individuals from the hospital as well as community stakeholders and organizations. As you consider who should be part of the implementation team, reflect on these questions:
Are there existing committees established earlier in the CHA process that can provide oversight? A separate or augmented group may need to be assembled to monitor implementation.
Is the committee representative of the community served?
Are there community efforts already under way?
Who will be doing the work? Are all partners clear on their roles in the strategy?
What skill sets are needed to make the strategy a success?
Are there gaps in staffing and skills that need to be filled? Can those gaps be filled by people in your organization and/or community partners? Will you need to hire any new staff?
Develop an action plan
Develop an action plan for each strategy that addresses a priority need with a detailed description of specific activities, roles and timelines. The following questions should be addressed:
What specific, concrete actions need to be taken to achieve the stated objectives?
What specific changes need to occur?
What organizations or individuals will take the lead on each action step, and who will be responsible for ensuring completion? Who else will participate, and what roles will they play?
What is a realistic time frame for the implementation of each step?
When will the implementation strategies be completed? How will they be maintained?
What metrics—outcomes and process—will you be measuring? How often? Set benchmarks to measure progress along the way. Make sure this matches your evaluation approach and that metrics measure the outcomes you want to see.
Is the plan flexible enough to adapt to changing circumstances or challenges?
The following are action plan templates that can be adapted for each priority need. Download the action plan templates here.
Action Plan: Goals and Objectives

Action Plan: Anticipated Impact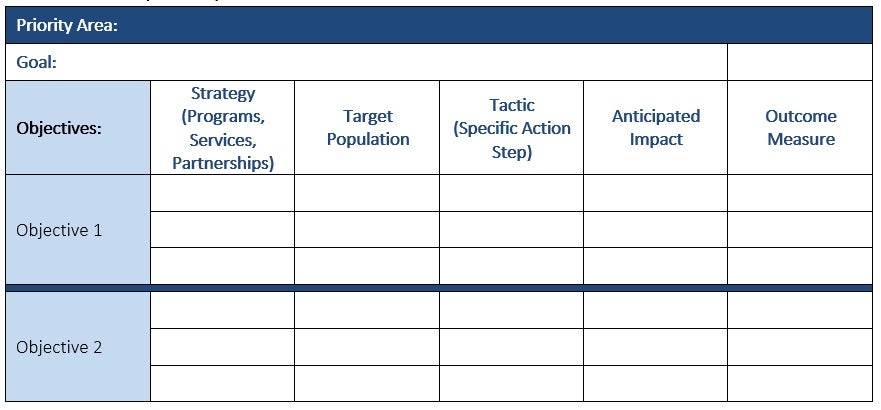 Action Plan: Responsibilities and Timelines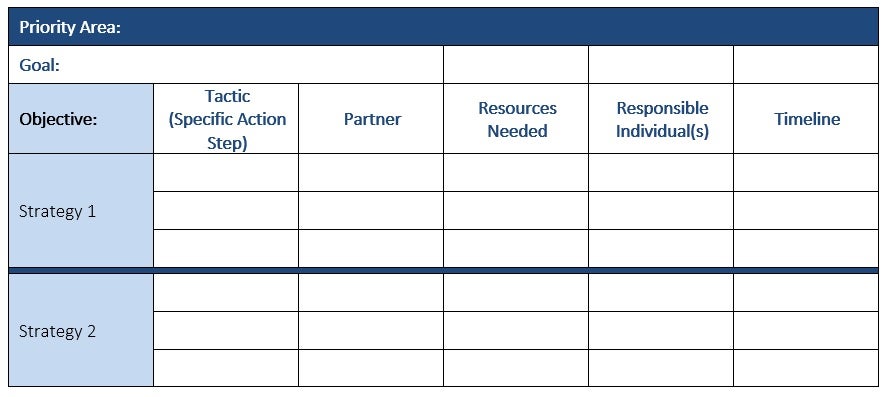 Develop a budget
Go through a budgeting process to estimate how much the strategies will cost to implement. Remember to include resources for both the programs and the staff who implement them. Once a budget is in place, you will need to determine where the funding will come from. Your hospital may be willing to financially back the entire strategy, or you may piece together resources from your organization, grants, in-kind support and community partners. Consider the long-term sustainability of the project when you are budgeting; improving community health takes time, and any initiative will likely require multiple budget cycles.