Community Health Assessment Toolkit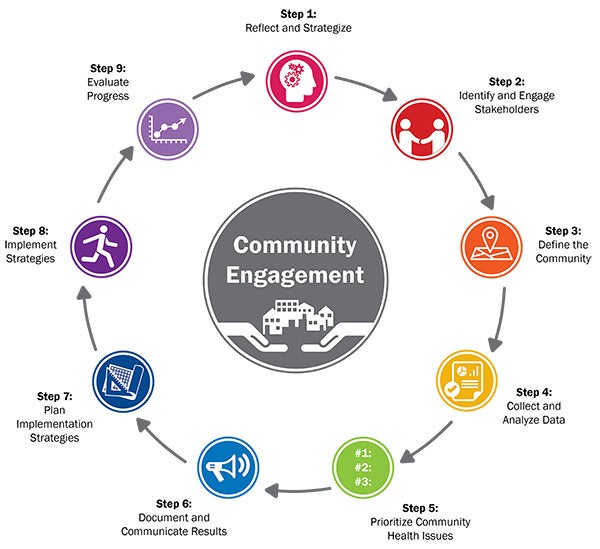 Background
The Affordable Care Act requires all nonprofit hospitals to complete a community health needs assessment (CHNA) process every three years. While CHNAs are a recent requirement, community health assessments (CHAs) have long been used as a tool by hospitals, public health departments and other social service agencies to identify key community health concerns. A CHA is a systematic process involving the community to identify and analyze community health needs and assets, prioritize those needs and then implement a plan to address significant unmet needs.1 Upon completing the assessment, hospitals develop implementation strategies to address the significant community health needs identified in the CHA.2 A community health assessment process can focus your organization's efforts around community health improvement and provide structure for addressing the determinants of health and illness in your community.
It is important for nonprofit hospitals to be knowledgeable about the Internal Revenue Service's regulations for CHNAs. The toolkit provides a foundation for meeting the relevant IRS requirements. The American Hospital Association's review of the IRS's final rules for CHNAs and implementation strategies can be found here.
The Association for Community Health Improvement's Community Health Assessment Toolkit offers a nine-step pathway for conducting a CHA and developing implementation strategies. Click on the icon for each step to read about that part of the process.
Funding Acknowledgement
This toolkit was partially supported by funding from the Centers for Disease Control and Prevention through Cooperative Agreement Number 5U38OT000211-03 with the Public Health Foundation. Its contents are solely the responsibility of the authors and do not necessarily represent the official views of the Centers for Disease Control and Prevention or the Department of Health and Human Services.
Acknowledgments
Special thanks to the Community Guide Branch, CDC, the Community Preventive Services Task Force, and the Public Health Foundation for their support. Thank you also to the ACHI Community Health Assessment Toolkit Workgroup for ongoing insight and contributions.
Citation for Toolkit
Association for Community Health Improvement. (2017). Community Health Assessment Toolkit. Accessed at www.healthycommunities.org/assesstoolkit
1. Catholic Health Association of the United States. (2015). Assessing and addressing community health needs. Retrieved from https://www.chausa.org/communitybenefit/assessing-and-addressing-community-health-needs
2. Ibid.