Explore the Toolkit Steps
STEP 4


Deepen Understanding and Increase Equity through Data
The COVID-19 pandemic shined a new light on racial health disparities and their root causes. Along with significant differences in mortality rates from the virus itself, historic gaps in data collection were identified ranging from chronic disease and emergency preparedness to congregant living. Your community health assessment can be your hospital's strongest asset to address these imbalances via better data collection and use.
A CHA integrates a combination of data that reflects and describes the characteristics, experiences, priorities and culture of the community you serve. In this step, you should hear from diverse local voices in addition to gathering community health and services metrics to build a more complete picture of your community. Summarize and synthesize these findings to articulate a comprehensive, inclusive view of the community that will inform your strategies to support the health and well-being of your community and drive health equity.
Assess Data Needs
In beginning the process to identify what data to collect and how it will be used, consider taking these key organizational steps with your partners and stakeholders:
Seek input from internal and external community stakeholders to solicit their recommendations on what measures of community health or health equity to include.
Identify what data you already have related to health equity, including race, ethnicity and preferred language (REaL); sexual orientation and gender identity (SOGI); and the social needs of patients, employees and/or community members.
Scan existing internal and external data collection efforts to determine what is already known about these measures.
Compare the existing data with the desired data to develop a plan to fill gaps.
Create a final list of existing data to use and new data to collect in your assessment process.
Prepare to Gather New Data
Before you begin to collate existing and new data, consider your hospital's strategic priorities, existing resources and prior CHA approaches. Some hospitals find a community-based participatory research approach fits well with their CHA. Some questions to consider as you plan your assessment and data integration process include the following:
What data can be contributed by your internal and external partners and stakeholders, and in what form will they transmit it to you?
Will the collected data be new, updated from prior CHAs, or both?
What system(s) and processes will be used to receive and integrate the data you are gathering?
What internal and external resources are available to provide support to integrating and analyzing data?
How do the metrics you are planning to report align with your hospital's overall strategic dashboard or key performance indicators?
Consider Your Data Sources
Your CHA will include a combination of internal data from sources within your hospital or health system, as well as external or community data from a variety of sources at the local, state and national levels.
Data Sources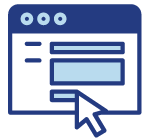 Area of Focus
Community Surveys
Content and Format
Assure respondents of confidentiality.
Collect race, ethnicity and preferred language data in a culturally appropriate manner.
Ensure that survey questions are culturally appropriate and at a literacy level and in a language that respondents can understand.
Review the survey draft with community members to see what needs to be modified.
Provide versions of the survey in the languages spoken by community members.
Consider using or modifying a validated survey instrument or questions.
Assess regularity of health care use because frequent users may have a unique perspective.
Allow space for qualitative answers.
Provide the option for respondents to be contacted for further involvement in the CHA process.
Distribute the survey online, on paper or both. Consider using both methods if there are major segments of the community's population who do not have internet access.
Participants
Consider oversampling vulnerable populations because interventions would need to be focused on the needs of those groups.
Distribute the survey where people live, work, learn and play — at churches, local businesses, health fairs, etc.
Widely advertise the survey using social media, newspaper advertisements, etc.
Engage community leaders to encourage participation in the survey among their constituents.
Consider specifically surveying the patient population.
Start With What You Know
Hospitals and health systems collect a great deal of information about their patients, their identities, social needs and the communities in which they live. Make sure to identify key internal sources of data that you can tap and integrate into the CHA.
Health Record
Electronic health record data can provide a unique window into the health needs of community members who have received care, including their health conditions and health-related social needs. Medical records data may be especially helpful in identifying issues related to chronic disease, behavioral health access and care and the prevalence of certain diagnosed medical conditions in specific patient populations. Combined with demographic, economic and environmental data that is found in the hospital's patient accounting and registration systems, analysis of de-identified electronic health record information can contribute to a better understanding of the challenges facing the community. Further, many hospitals and health systems now screen for the social needs of patients, such as housing instability and utility needs, food insecurity, transportation and interpersonal safety issues.
Marketing or Communications
Marketing or communications data is accumulated regularly by hospitals and health systems to support overall strategic planning and may be helpful in painting a more complete picture of a community's assets and needs.
Community Health Workers
Community health workers (CHWs) or other front-line patient-care coordinators and navigators, if your hospital employs them, can provide qualitative and quantitative information. This information is neighborhood-based and focused on SDOH faced by patients and others who live in the communities you serve.
Disaster Preparedness
Disaster preparedness teams at hospitals collect and use information about climate and environmental events and vulnerabilities that can inform and be informed by the CHA process.
All of these sources and more can provide clues to what external data can be explored to fully understand the community-level factors that are causing different outcomes in health status for patients served by your hospital or health system.
Assessing the Broader Community
External sources of data are critical to forming a complete picture of a community – providing insight into community demographics, important differences in health outcomes, access to and use of health and social services and the priorities of community members.
Demographic and Health
Demographic and health outcomes data at the community level is compiled by local and state health departments as well as by national sources such as County Health Rankings & Roadmaps, Community Commons and the Centers for Disease Control and Prevention including the CDC's Behavioral Risk Factor Surveillance System. Data that is collected and analyzed needs to reflect the clinical and nonclinical factors that affect health, including SDOH. The selection of data sources will depend in part on the definition of your hospital's geographic service area.
Many hospitals and health systems have begun incorporating data from less traditional sources to capture additional root causes of disparities in well-being at the community level, such as access to broadband internet services, climate or structural vulnerability, housing density and other factors contributing to risk of infectious disease spread, among other measures.
Community Partners
Community partners may track data on access to and use of social services, which can provide insight into the needs profile of community members. United Way supports 211, a resource that connects people to local resources for assistance and can provide data on the unmet needs in your community. Other organizations — like area agencies on aging — track the needs of specific populations of individuals who may be at risk for poor health. Connecting with key service providers in your community to obtain their insights into the areas of greatest need is essential to the CHA data collection process.
Be sure to reach out to service providers for unhoused persons, supports for individuals involved in the justice system, immigrant-serving organizations, faith-based providers and others serving communities dealing with sustained hardships. The objective is to gather health care and socioeconomic data that historically has been overlooked. Learn more about data equity.
Engage
Finally, engage community members directly to solicit their input. This is foundational to fully understanding community needs and understanding how community members prioritize those issues and what strategies could help solve them.
Four main approaches can be deployed to obtain primary data:
Community surveys: Written surveys distributed widely to the community on paper, online or via a verbal canvassing process.
Key stakeholder interviews: One-on-one conversations between trained facilitators and community stakeholders.
Focus groups: Group-based conversations of five to 10 participants led by a trained facilitator.
Town hall meetings: Communitywide meetings led by a trained facilitator.
Guiding principles to consider when soliciting the opinions of community members about their community health needs include the following:
Engage community members in defining and setting research goals based on their understanding of the community.
Involve community members in developing surveys or interview guides to ensure that questions are culturally appropriate, understandable and will elicit desired responses. Do not use health care jargon because most people outside of the field will not understand it.
When developing questions, make sure the questions accurately and directly address what is being measured.
Keep the wording of questions simple, with clearly defined terms. Avoid leading questions, two-part questions or questions that make assumptions about the respondent.
Use person-first or identity-first language in designing your questions. For example, use "persons with (disability or a disability)" rather than "handicapped people," and use "older adults" instead of "the elderly."
Test the questions with a small sample of potential respondents to get feedback and identify any confusing terms or suggested modifications.
Keep surveys short to reduce the time burden on the respondents and increase the response rate. Include only relevant, necessary questions.
Collect responses from a large and diverse group of individuals who are representative of the community served. If there is a significant non-English-speaking population, consider approaches that would allow those individuals to participate using their preferred language.
Train individuals who will be conducting interviews and focus groups to perform this work consistently and neutrally so as not to influence responses.
Develop standard processes for analyzing data. This is particularly important when coding qualitative data, which is a fairly subjective process.
Tips
Prioritize use of equitable data practices.
When appropriate, using disaggregated data on race, ethnicity and other demographic factors can help to identify and address disparities and ensure actions undertaken are equitable and work toward improving the health of communities.
Include both quantitative and qualitative (or community voice) data to tell the story of your community's assets and opportunities for improvement more accurately.
Consider the distinct characteristics of each particular data set, such as interval collection, population in relation to your service area and any inconsistencies. This will help you determine the potential of each particular resource to inform your efforts.
Prepare to Gather New Data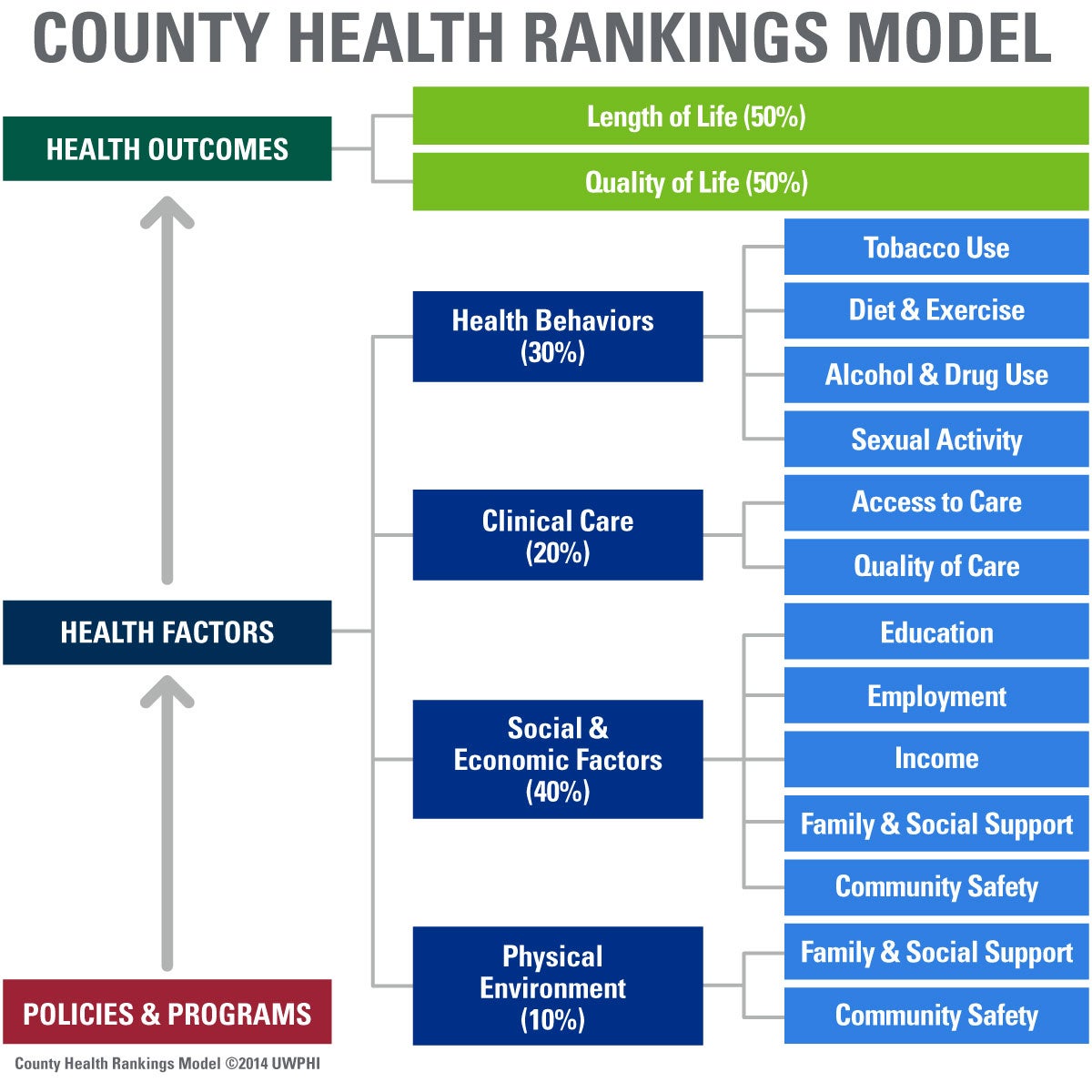 Source: University of Wisconsin Population Health Institute (2016). County Health Rankings & Roadmaps: Our approach.