Building the future workforce requires leaders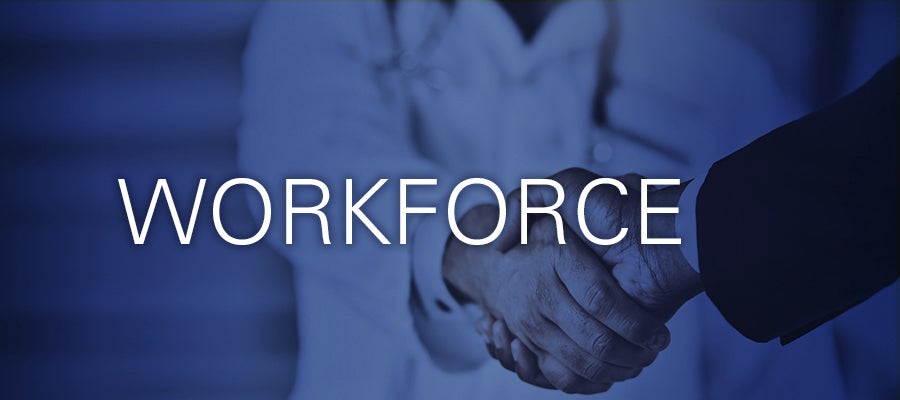 Roughly half of hospitals and health systems don't have a systematic process to develop future leaders, and that statistic is one AHA is working to change. In an Advancing Healthcare podcast earlier this year. Brian Gragnolati, AHA board chair, discussed the future of workforce with Maryjane Wurth, AHA executive vice president and COO.
"It starts with the board," said Gragnolati. "You have to have governance that really understands the importance [of workforce planning] and you have to have CEO commitment along with expert support and council. As AHA, its part of our role to have those conversations."
Gragnolati noted three key competencies today's health care leaders should look for in tomorrow's workforce.
Look for people willing to adjust rapidly in a disruptive environment; those with courage to take risks.
Identify individuals that approach health care as a team sport and bring creativity and new thinking to current challenges.
Find individuals who understand the migration of hospitals treating patients to hospitals working with consumers. That brings with it a focus on the community and awareness — a peripheral vision — of the environment around them.
Across the country, organizations are taking these words to heart. The latest case example from AHA's workforce initiative highlights an innovative workforce development and expansion program in New York that's building new health careers and supporting future leaders.
The Staten Island Performing Provider System, an alliance of clinical and social service providers co-led by Staten Island University Hospital and Richmond University Medical Center, partnered with the College of Staten Island and SEIU/1199 Training and Education Fund to create a successful apprenticeship program. The program enables greater emphasis on community-focused care, particularly the opioid crisis, by creating new positions such as certified nurse aides (CNAs), community health workers (CHW) and certified peer recovery advocates (CRPA).
The program is a mix of classroom and on the job learning with support from a current employee who serves as a mentor. Through the program, those new to health care gain entry and advancement in health care jobs, existing staff have the opportunity to learn new skills, earn college credits toward a degree and incumbent staff can better adapt to new job demands while also learning to lead through mentorship opportunities.
Elisa Arespacochaga is vice president of AHA's Physician Alliance.