The Hospital Community Cooperative is a center for research and learning that not only benefits our participating teams, but all hospitals and communities across the country. Here you'll find the best tools for developing partnerships and achieving sustainable community health improvements.
---
Learning Lab
HCC's Learning Lab, held from September 26-28, 2018, featured speakers, panels, learning activities, and 1-on-1 technical assistance sessions for each HCC team to continue building out their local place-based health equity programs.
Understanding the Role of Social Determinants of Health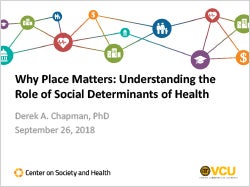 Presentation, HCC Learning Lab
Derek Chapman, Interim Director, VCU Center on Society and Health
Download
---
Get connected with us to learn all about how you can be a part of the HCC program.
Contact Us